Our Services: Making a Difference for You
What kind of difference can we make for you?
People seek out a dentist for various important reasons. You might be among the wellness-oriented folks who are feeling fine, those who have perhaps had their mouths maintained for years by an excellent dentist "back home." Now you know it's time you found someone in Philadelphia who will strive to their utmost to keep you and your smile healthy.
We can make that difference for you.
Others of you may be in pain. In dentistry, we are in the business of relieving physical pain. We hear that call, and answer it promptly.
Patients can also have esthetic pain. Where someone is unhappy with their smile. Did you know that people smile less when they're dissatisfied with the appearance of their teeth? A healthy smile means beauty, strength and health. We foster that smile's health.
What is Excellent Dentistry?
Excellent dentistry is precise, professional dentistry. At Richard Wilson DMD Dental Arts and Sciences we pay attention to the smallest of details, use the finest materials, set up systems that protect you into the future and ensure that the outcomes of your treatment are what we set out to achieve together.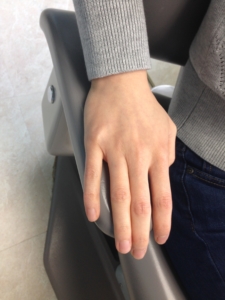 Excellent dentistry is cosmetic dentistry; the results of every treatment that we do are beautiful. Why wouldn't they be? When treatment is required because of cavities, fractures or other issues, we restore teeth to their natural beauty. And in our pravctice we deal with elective issues, like crowded teeth, in a remarkable way: we ask you what result you're seeking.
Speaking of asking, excellent dentistry is communicative dentistry. We fully discuss with you the implications and potentials of any treatments, and pay close attention to your responses and concerns. We're not merely attentive to matters of the mouth—we believe in using our ears.
Excellent dentistry is also about providing relief of pain and anxiety; this is perhaps the most important of all modern dentistry's accomplishments. In our practice we use effective, modern local anesthetic techniques to ensure your comfort during procedures. We also provide nitrous oxide and oral medications upon request. We will match our pain-relief measures to your particulars; we're particularly careful in our mastery of relieving pain.
On our next page, Initial Appointments and Treatment Options you can learn about the specific things that we do at Dental Arts and Sciences. Here, though, when you first make your attempt to get to know us, we want to talk about your outcomes.
Outcomes are about how much difference we can make for you. For more than 75 years we've built a dental practice that is unique, and remarkable, and caring. If you're a person looking for our level of commitment, we'd love to hear from you. We know we can make a difference.