Each and every workday, we can imagine, hundreds of millions of human beings all over the world wake up for work to the sound of an alarm clock–or these days, perhaps, the electronic sounds available on their smart phone. Many of these people, perhaps even most of them, consider this act a great burden; a struggle; one of the toughest parts of their day. Then, once busy in school or at work, we all need to measure the passage of time for a thousand different reasons. Being late for class or a meeting or that long-anticipated lunch date … Getting the kids to the game … Seeing patients on time … Dealing with traffic! We are constantly faced with the necessity to measure time.
Yet everywhere I look these days, in every public building, whatever its purpose, the time-keeping devices that hang on the walls are mere throwaway commodities. Accurate, perhaps. But anonomously mass-produced at the lowest possible cost, with a minimal design esthetic and no ornamentation or style whatsoever. There's no possibility of repairing today's clocks when they fail, either—they're strictly disposable. Not such a surprise really—we live in an era when many of us refer primarily to our smart phone to tell the time. After all, it's spot-on accurate since the phone communicates with the phone company, and these remarkable devices do embody thoughtful design. There's also a niche market for high-end wristwatches. Alas, though, the wall clock has been Wal-marted, devoid of design and joy.
Once upon a time in America, though, design mattered in every product built for consumers. Ever see a toaster from the 1930s in a classic movie? In the realm of timekeeping, the Telechron company was one of the iconic brands that delivered style as well as functionality to timekeeping in American homes. Founded in 1917 and surviving into the early 1960s, the Telechron Company did no less than dazzle consumers with electric clocks that were supremely accurate and beautifully designed, often by the most famous and sought-after designers of the day.
Telechrons have recently taken on several great meanings for me, yet my first experience of them was when my grandmother had a Telechron tambour-type mantle clock when I was very little. My cousins and I were all obsessed with it. Apparently when my grandmother passed away, my one aunt sold many of her possessions at a yard sale, so this engaging and reliable clock was lost to the family.
Fast forward to last winter, when I started co-writing Swirled All the Way to the Shrub with my writer friend Tom Bentley. We set it in Boston during the week of the 1929 stock market crash. I needed a type of clock for my female protagonist's desk—something that would be appropriate for that place and time. Mere minutes of research revealed the Telechron brand, and suddenly I was hooked on restoring them.
(Here's a link to the short story, which we are extending in to a full novel:)
http://www.amazon.com/gp/product/B010C9OADQ?keywords=swirled%20all%20the%20way%20to%20the%20shrub&qid=1447093605&ref_=sr_1_1&sr=8-1
Join me, then, on a tour of our office Telechrons. (Note regarding GE: General Electric had a 49% interest in the company, and half the clocks were produced in their name, by the Telechron factory in Ashland Massachusetts.) And if you stay with me till the end, you'll learn two remarkable things about these American cultural treasures.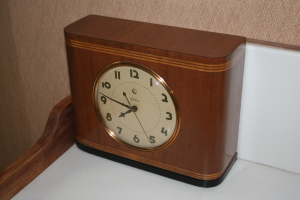 In our hallway, you will encounter (and hear!) the magnificent Telechron 6B01 'Jubilee.' The Jubilee dates from 1937-1940. It strikes the hour and half hour by means of a mallet that contacts a coiled brass rod. It's a lovely sound, and purely mechanical, no electronics! Telechron sold 5,433 Jubilees at a price of $14.95. This is equivalent to $250 in 2015. And yet, I picked up this example on eBay for less than $20! Granted, there was damage–but not anymore.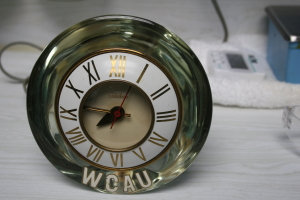 In Room 1, haunt of our hygienist Melissa, is the Telechron 3H159 'Suave.' Manufactured from 1950-1953, the Suave is essentially a massive hemisphere of solid glass. A photo doesn't do it justice—you have to pick it up and hold it to fully understand just how unique it is. Not to sound overly nostalgic, but you'd never find a clock like this today. Telechron sold 16,854 Suaves at $21.00.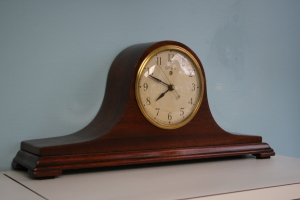 In Room 2, we encounter the Telechron that re-started it all for me—the 'AA,' a campaign model tambour mantle clock. Produced from 1931 to 1933 with 55,360 sold, the AA was advertised as a $24 value being sold for $9.95. Telechron did this from time to time—offered a similar clock to one of their successful models, at a fraction of the cost. This is the clock that my grandparents owned. Even $9.95 was really something in 1931, when the Great Depression had hit its nadir.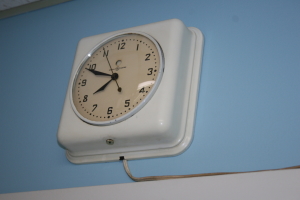 Up above the door in Room 3 is our Telechron/GE 1937-1948 2H08 'Garcon,' generously given to me by long-term patient Bill G., who found it when handling an estate. The owner was not a heavy smoker, judging from the condition of the clock, so cleanup was rather easy, except that I wanted to keep the original paint, and so cleaned it extremely carefully. The Garcon was designed by John P. Rainbault. It was one of GE's big sellers, at 1,440,839. Very many 40s-era American kitchens sported a Garcon, that is sure. They came in bronze, chrome, black, gold, green, ivory (ours), blue, red or white. The Garcon cost $3.50.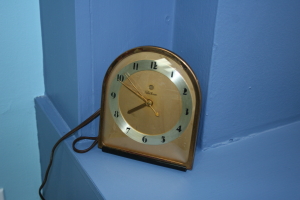 In Room 4, Maryanne's office home, we see the elegant 4F67 'Embassy' over on the window sill. Made from 1936 to 1942 during the war, the Embassy is a delight in brass along with tan and gold coatings. 51,241 were sold, at $6.75. The font on this clock is the very essence of Art Deco. Telechron truly understood the art of the font.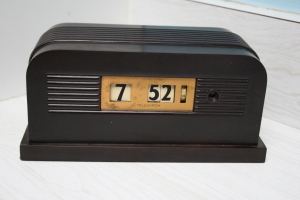 Along the counter in Room 5 we find the Telechron 8B11 'Granada.' This Bakelite beauty is a 'cyclometer' clock. While it's certainly analog, it has a digital feel because of the rotating numerals. Setting the time is certainly easy with this one! Telechron sold 26,514 Granadas from 1938 to 1942, at $7.50.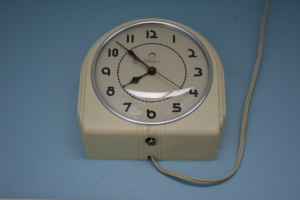 Above the door in Room 5 hangs the 2H07 'Buffet,' certainly one of Telechron's biggest sellers ever. Fully 1,708,130 were made from 1937 to 1953. More Buffets inhabited American kitchens than even the redoubtable Garcon! This Bakelite or Catalin beauty came in ivory, white, green red and black and sold for $3.80 initially—it sounds affordable, but still that's $64 in today's money. It was designed by Leo Ivan Bruce, whose super-rare onyx 'Shoreham,' 'Barclay,' 'Hampshire,' and 'Harwich' designs are among the most sought-after Telechrons today. Only 810, 707, 737 and 506 were made of each, respectively.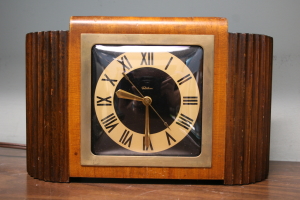 Back in my office, on my desk stands the dramatic 4B79 'Olympic,' designed by the splendidly-named Jacques Bars. The center part of the case is Burma Padouk and the sides are Walnut. The hands and bezel are brass, with a gorgeous contrasting black face that contains a satin gold numeral band. This clock reminds me of the movies from the 1930s, somehow. Perhaps it's the suggestion of a stage, with curtains at the sides. Telechron made 15,952 Olympics from 1937 to 1940, at $9.95 each. Today, that would be a $170 investment in elegant, accurate timekeeping.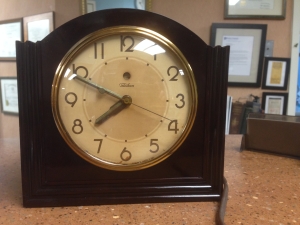 Our newest Telechron addition is the 4H93 'The Highland,' a true Bakelite Beauty that dates from 1939 – 1944. I cleaned the Bakelite surface with Brasso, a well-accepted technique, but it still looked dull and very two-dimensional. I then tried, for the first time, the oddest (yet most highly regarded) Bakelite restoring technique from the online forums: treating the surface with Avon Skin So Soft. Of all things! The results were spectacular, and our Highland is now resplendent in all its original shine and three-dimensional splendor. You have to see it in person; photos don't do justice. The frictionless sharing of hobbyists' information via the Internet has been transformative to every personal creative endeavor, hasn't it?
***
New Telechron Alert!
One of the last of our battery-powered quartz clocks failed. We are interested in eliminating the practice of throwing out batteries, which contain lead and other heavy metals. These toxic substances leach out of discarded batteries and enter the soil in landfills and, eventually, water supplies and the environment.
Thus, our Telechron cords are not unsightly to us–they are a badge of honor, of environmental honor.
Here, then, is our atomic-age brass marvel, the 2H101 from the early Fifties: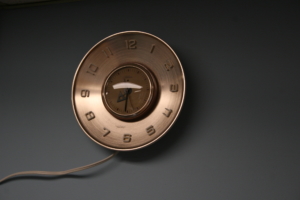 Our most recent Telechron addition is this magnificent pre-war 4F61 Pharaoh:
The Pharaoh was made from 1932 to 1938, and was considerably larger than the post-war model with the same name. Our hygienist found this Telechronic Treasure in the trash. With no cord. And what's worse, some brute had spray painted that gorgeous mahogany all gold. Back in the culture-starved 1970s, no doubt. I attached a cord and, with that indomitable Telechron spirit–she ran! But then I took apart and cleaned and sanded off that gaudy spray paint and refinished and now we see our Pharaoh not only rescued from the landfill, but restored to her original beauty. Keeps perfect time, as well.
Finally, here is the greatest alarm clock ever created by human ingenuity: the Telechron Electrolarm.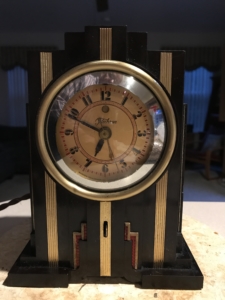 The lower middle and upper left/right brass trim were missing, a common issue on this model after eighty-plus years. I re-created the brass trim at NextFab, which was a fun project to do on the Bridgeport milling machine. I also re-silvered the crystal; the original silvering had all but worn off. Circa 1928-1932, the Electrolarm contains a large actual brass bell inside. When the hammer strikes that bell, it's LOUD. This evocative art deco masterpiece resides in my home–and so if you're my first morning patient, there's a good chance that I'm alert and ready to see you on account of my Electrolarm waking me up.
Along with some strong coffee. We start early.
I am indebted to Jim Linz' remarkable book, Electrifying Time, for the details on these and other Telechrons I've restored. The amount of research he did is staggering, and his book is an invaluable resource on this iconic American brand.
Rick Wilson DMD
Read more about restoring Telechrons—