Environmental Changes That We Have Adopted at Sukoneck & Wilson PC
Digital Imaging (2004)
no chemicals
less power use
better images!
3 US companies were engaged in this project, 2 from Pennsylvania
Digital Charts (2012)
…all charting is done with secure, HIPAA compliant, digitally backed-up Dentrix software; no more piles of paper chart folders.
Paper patient takeaway bags
…instead of plastic
Less use of paper wherever possible
…using scrap paper rather than Post-Its
Recycling
Switched to biodegradable equipment cleaners
Replacement of flourescent lighting with energy-efficient LED lighting
They are beautiful! AND dimmable. Never again will we have to blast a patient with needless levels of harsh fluorescent light at 7:00 AM.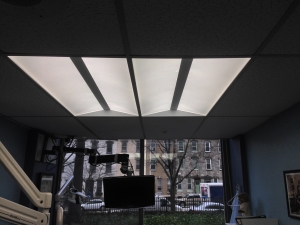 Use rechargeable batteries
…and recycle them at the end of their useful life
Switched to a water filtration system
…rather than use a plastic bottle based water cooler
And then there's the CMax …
For a year now, Dr. Wilson and his wife both drive Ford CMax Energi cars–
These are plug-in hybrids. Yes, they have a gasoline engine for long highway trips. Yet most commuting and local trips are totally EV in these cars–battery-powered, smooth, silent electric driving.
More and more of our patients are driving Chevy Volts and Nissan Leafs and other hybrids and EVs. More here:
http://www.plugincars.com/cars